Thursday, February 17
Morgellons: New Skin Disease Hits US
This new skin disease seems to have hit several major US cities. The Symptoms are sores around the mouth that develop strange protein fibers. It is called
Morgellons
and some, such as TBF at
Libertythink.com
hypothesize that it could be related to chemtrails or cloud seeding.
Sores on lip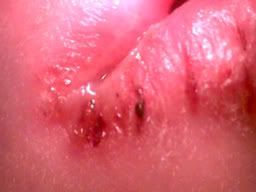 Object removed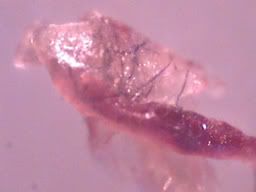 From Indymedia BioTech:
BIOWARFARE SYMPTOM ASSOCIATED WITH US GOV'T FIBERS OF CHEMTRAILS? found from Switzerland to the U.S. West Coast.
"...a mystery illness that is making the rounds even here in Switzerland, a lumpy bumpy, subcutaneous rash, for which no dermatologist seems to have any cure, ...occurred in U.S. one year later,..."
Poetic Justice: "Chemtrail flyers likely to be the first to die of U.S./NATO biowarfare chemtrail plagues? "Perhaps there is a nudge in the right direction in the fact that I have heard from some correspondents about people working at airports shared by air transport divisions who have been developing these MORGELLON symptoms - did something in transport, say chemtrail materials to some remote air-base out of which these night-and-day chemtrailing operations are mounted, somewhere remote enough to hide the landings-and-takeoffs of innumerable planes, or perhaps only tanker planes replenishing the chemtrailing fluids of satellite- remote controlled planes run on modified turbojet engines with no burners but heat-piped engines fed from mini Americium-242 reactors, like planned for the Mars missions, and air-tanked from, say, for instance, Diego Garcia? -- leak out?
|
Powered for
Blogger
by
Blogger Templates